These instructions are for setting up a prayer campaign and a accompanying display page.
Requirements:
A Disciple.Tools Instance
A WordPress page on a separate WordPress instance or on a D.T instance using the Porch Plugin.
Setting up the Campaign
Enable the Prayer Campaigns Plugin on your D.T instance
You should see the Campaigns tab on your tab nav bar:

2. Create a new campaign.
Make sure all the required fields are filled out: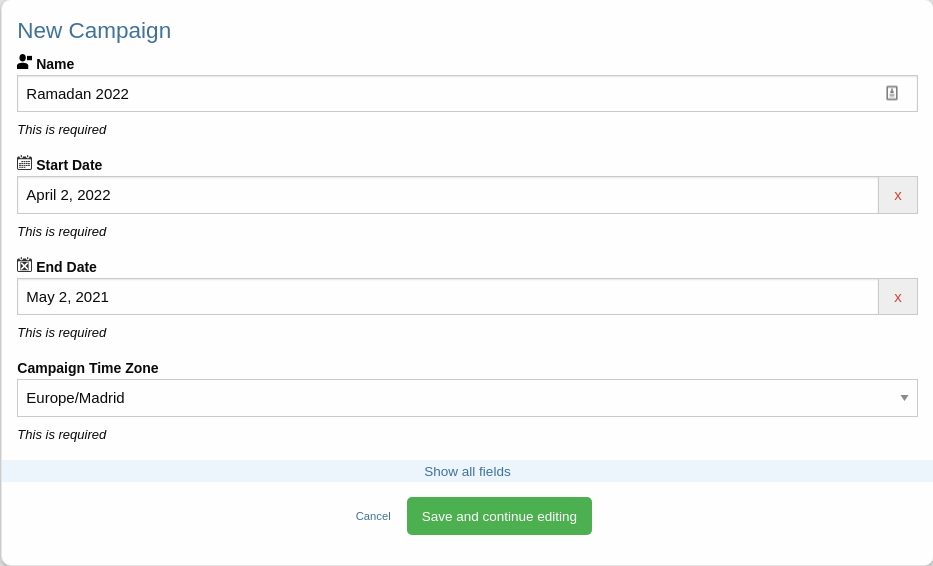 On the new campaign click on the "Open Link" Button to see the pieces.


Should look something like this: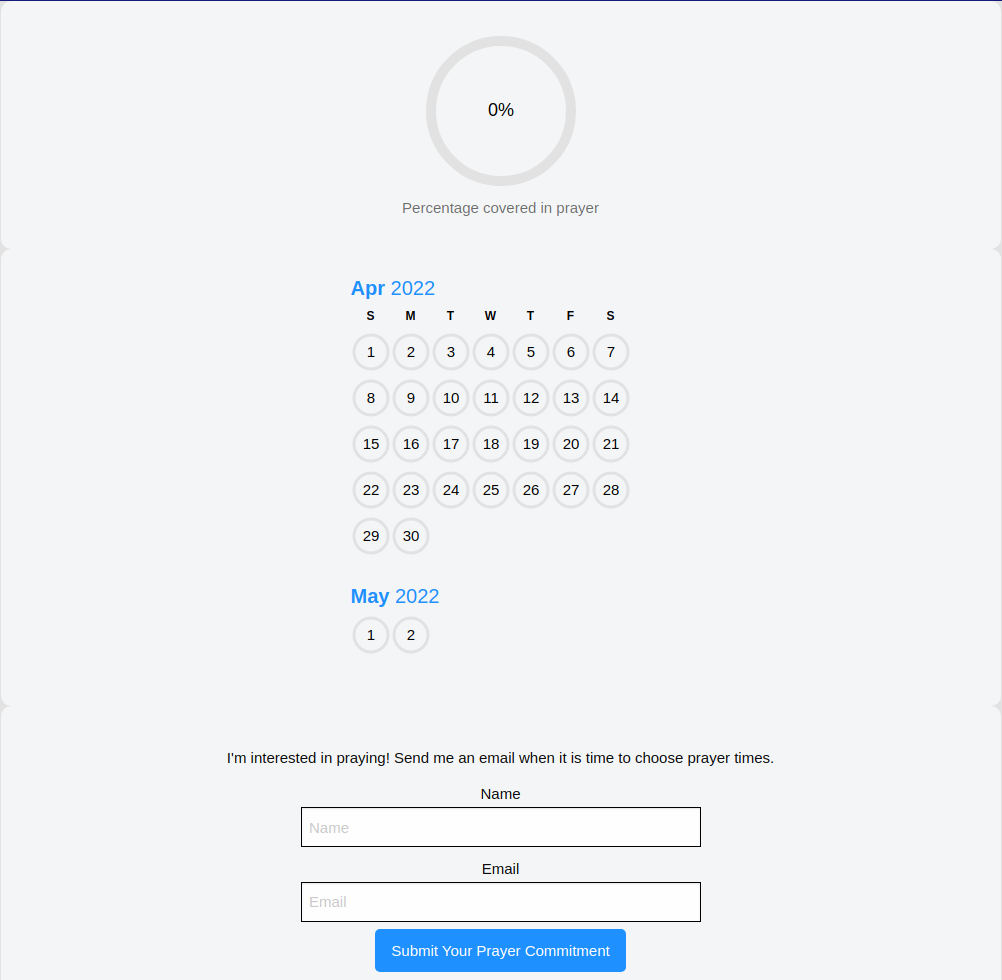 By default the Campaign's status is "Pre Sign-UP". This means that the tool to select prayer times is not enabled yet. User you give the email address will be saved until your a ready to enable the tool.

A couple months before the start of the campaign you will change the status to "Active". You will also want to send an email to all who have signed up for them to select prayer times. Go down to the "Campaign Communication" tile and click "Send now" button. (Make sure you campaign is active, refresh the page if the button is grayed out)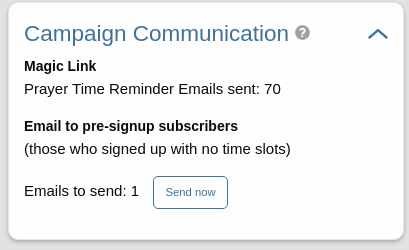 Setting up the Landing Page

Make sure you have the Prayer Campaigns plugin installed and activate on the instance where you are creating this landing page.
On the campaign we created above, under the Campaign Strings Tile there is a "Copy Shortcode" button. Clicking it will give something that looks like this:

[dt_campaign root="campaign_app" type="24hour" public_key="b4b1a1084b378b306fda869d20a766a50b37abd37ef850de16c896802ff0dcbe" meta_key="campaign_app_24hour_magic_key" post_id="73" rest_url="http://multisite.local/24/wp-json/" lang="en_US"]


This is a WordPress "shortcode" that can be pasted into any Worpdress page
By default it will display something that looks like page you get to by clicking the "Open Link" button.

There a 3 sections we can play with and move around:
"progress" with the percentage circle
"calendar with the Calendar
"sign_up" with the sign for and time selection tool

If we only want to display the calendar, we need to add section="calendar" at the end of the shortcode so it looks like this:
[dt_campaign root="campaign_app" type="24hour" public_key="b4b1a1084b378b306fda869d20a766a50b37abd37ef850de16c896802ff0dcbe" meta_key="campaign_app_24hour_magic_key" post_id="73" rest_url="http://multisite.local/24/wp-json/" lang="en_US" section="calendar"]
You are free to design the Landing page that will work the best for your Prayer Campaign
The editor will look like: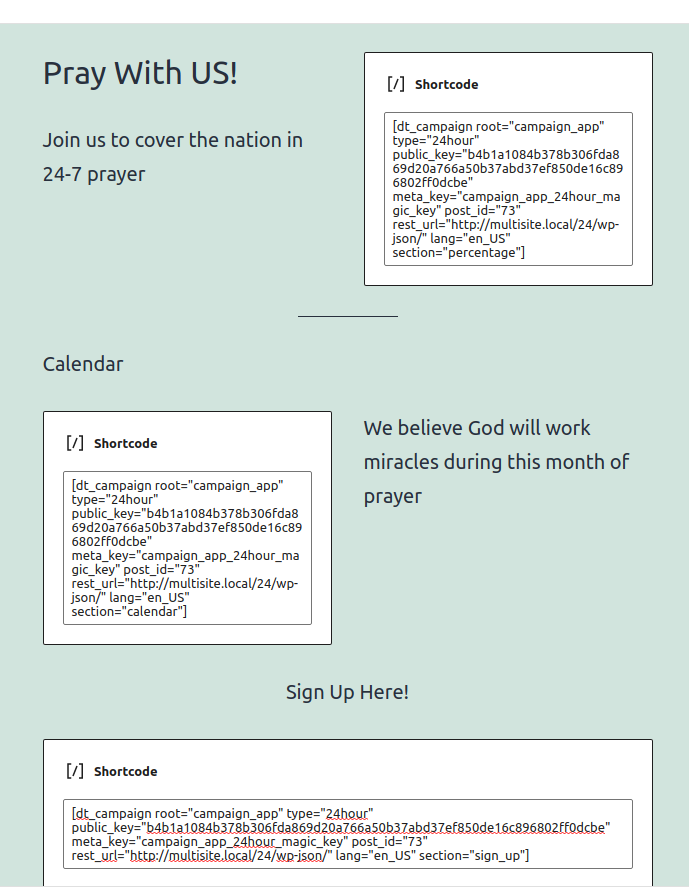 And would be displayed like this: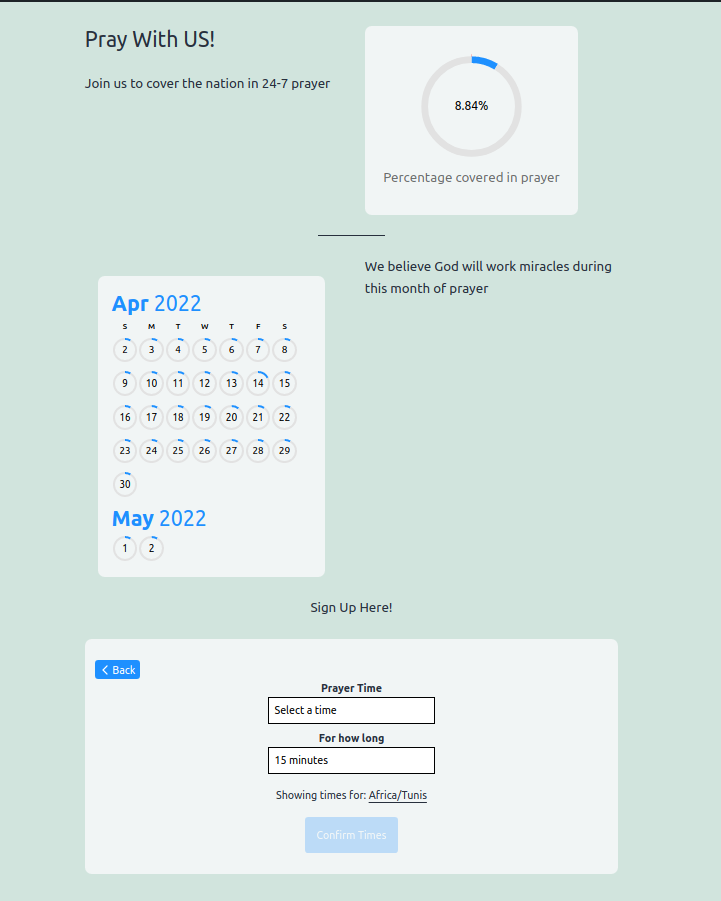 ---
Section Contents