Summary: Help us translate the Theme or a plugin at https://translate.disciple.tools/. Be sure to log in first.
Overview
Disciple.Tools is built on WordPress and uses the WordPress translation strategy. Extensive resources can be found on WordPress.org giving explanations and help for translators. WordPress Translation Resources​
We invite you to contribute a new translation to Disciple.Tools, and it does not require writing code! You can submit completed translations through Github or through email, and our commit team will review it and add it to the project.

Current Available Translations
Disciple.Tools is available in 30+ languages. See Translation for more details.
As Disciple.Tools develops, additional translation commits will be needed.

How to contribute
We are using an online tool called Weblate. No downloading, changing, or uploading of files necessary. No coding skills needed either.
To get started visit the https://translate.disciple.tools/ as set up an account.

Creating an account on Translate.Disciple.Tools
You can see theme and a list of plugins to translate here (these are called components): https://translate.disciple.tools/projects/disciple-tools/.
The D.T app translation project is still on Poeditor here.
Select the component (theme or plugin) and then select an existing language from the displayed list or click "Start new translation" link at the bottom to add the language you want Disciple.Tools to be translated in to.
Your translations will become available to everyone when we push a release for the theme.

How to do a translation for the Theme or a Plugin
Once you've selected the theme or a plugin and a language, click the Translate button for the next string.

Or browse the full list or one of the more filtered list in the Strings status section.

Translating
Here we chosen French as our language and the next string to translate is:
"Who was this contact baptized by and when?"
Enter the French text box under French (fr_FR) and click save and continue. You might want to check the Automatic Suggestions to make the translation easier.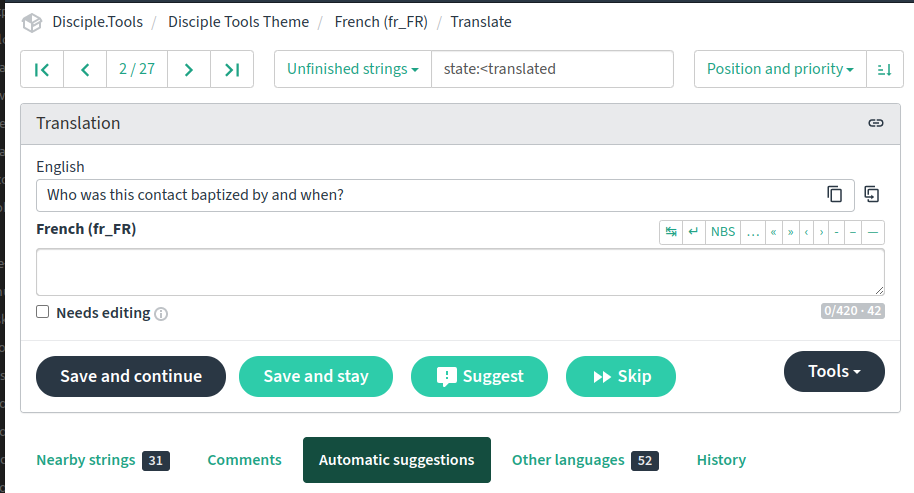 Automatic Suggestions
Click the Automatic Suggestion tab. Here you might see several suggestions. Clicking Copy will copy the Translation suggestion to the text box above. Copy and save will save the suggestion and bring you to the next page.
Here we see 2 suggestions.
The first one is from the "Weblate Translation Memory". This will only show up sometimes and means these words have been translated in the theme or another plugin and might be helpful here. In this case the suggestion translation does not work.
The second is from "Google Translate". This will often a good match, depending on your language. Click Copy, change the text if needed and Save and continue to go to the next sentence.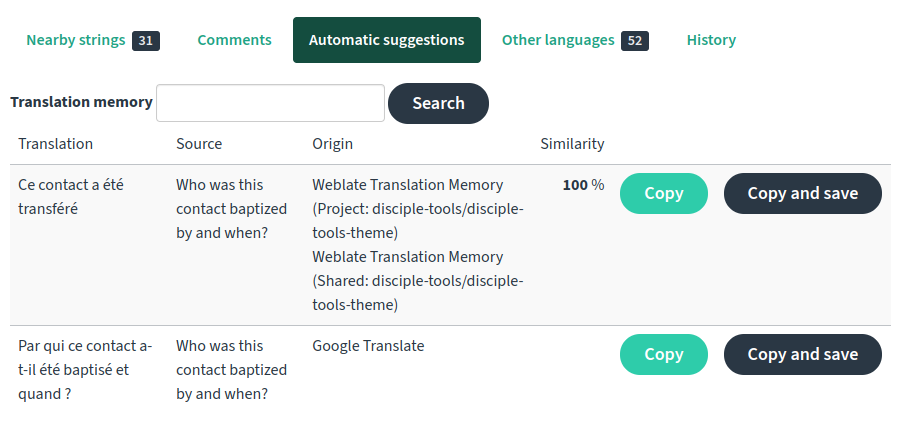 What are those wonky characters?
You will see some strings that look like this:
Sorry, you don't have permission to view the %1$s with id %2$s.
What do I do with the %1$s and %2$s and what do they mean?
These are placeholders that will be replaced with a something else.
Here this sentence in English could be :
Sorry, you don't have permission to view the contact with id 4344.
Sorry, you don't have permission to view the group with id 493.
In this case, %1$s corresponds to "contact" or "group". %2$s corresponds to the id of the record
This message can be displayed for a contact or a group. And we don't know before hand the ID of the record. This lets you, the translator, make a sentence that is grammatically correct while still using placeholders.
To translate the sentence, just copy and paste the characters ( %s, %1$s, %2$s ) to into your translation.
In french this sentence would give:
Désolé, vous n'avez pas l'autorisation d'afficher le %1$s avec l'id %2$s.
---
Section Contents