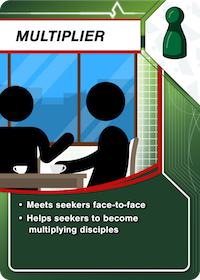 Role Description:
A multiplier is normally tasked with making face-to-face meetings with any contacts they have been assigned to. They are expected to keep their contacts' profiles up-to-date in the system to accurately reflect the contacts' unique spiritual journeys.
Contacts and Groups Access: Users with this role can only see contacts assigned to them and groups they have created. They can also see contacts shared with them by another Disciple.Tools user.
Metrics Access: Currently unimplemented.
Admin Privileges: None
Disciple.Tools Multiplier Guide
Guide 1: Learn more about the Multiplier role so you can identify the right person or persons for the job.
Guide 2: Train and on-board new Multipliers to your Disciple.Tools site.
---
Section Contents