On this page is where you can see a full list of all the trainings that have been created.
Trainings Records Tile
The list of trainings in the Records tile is filtered using the Filters in the Trainings Filters tile. The list shows and can be sorted using following headings:
Name – name of the training
Leaders – number of Leaders that are assigned to the training
Participants – number of Participants that are assigned to the training
Locations – list of locations where the training will take place
Status – the status of the training
Start Date – the date the training will (or did) start
Trainings Filters Tile
Use the filters to modify what trainings are shown in the list of trainings in the Records List tile.
There are built in filters related to when the trainings will happen or use the Add new filter link to create your own Custom Filters using one or more of the following variables:
Locations
Status
Start Date range
Leaders
Participants
Groups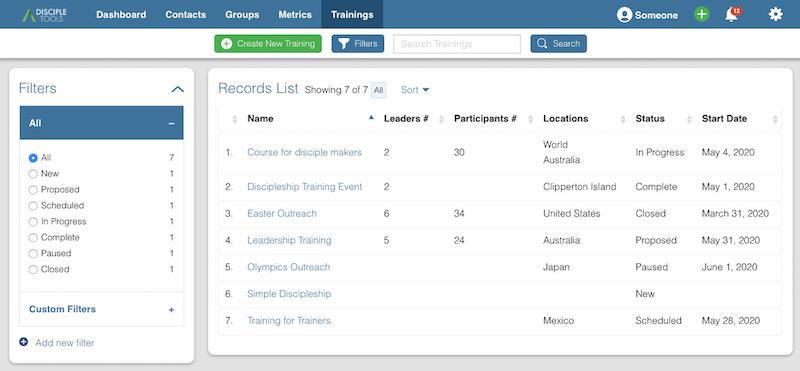 Clicking the Create New Training button will allow you to add a new training.
---
Section Contents