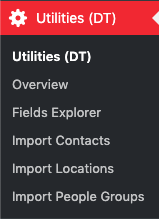 Description
In this area of Utilities (DT) you can access via tabs the areas of:
Overview – A summary of your WordPress version and PHP version.
Field Explorer – A list of all the fields available on this Instance. Some are default fields, some are installed by plugins.
(Import contacts and Groups – Import contacts using the CSV file format.)
Import People groups – Add a People Group using the country they are found in.
GDPR – (General Data Protection Regulation)
How to access:
Access the admin backend by clicking on the on the top right and then click Admin.
In the left hand column, select Utilities (DT).
---
Section Contents