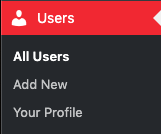 Description
In this area you can view all the users in the system, add a new user, and access your profile.
Refer to the Users section under Getting Started to learn how to use this area.
How to access:
Access the admin backend by clicking on the on the top right and then click Admin.
In the left hand column, select Users.
All Users
Here you will see a list of all the users in the system.
Add New
Here you can create a new user that can access this system.
Profile
Here you can adjust your personal preferences including set your user language, modify your display name, change your system email. Many of these settings can also be adjusted on the frontend too.
Extra Disciple.Tools Information
At the bottom of this page is an area with Extra Disciple.Tools Information. You can be informed if the user is connected to a contact. If not, you can connect this user with a contact in the system.
Roles
All the roles available are listed here. The user can select which user roles that want to have permissions for.
Administrator – All D.T permissions plus the ability to manage plugins.
Strategist – View project metrics.
Dispatcher – Monitor new D.T contacts and assign the to waiting Multipliers.
Digital Responder – Talk to leads online and report in D.T when Contacts are ready for follow-up.
Partner – Allow access to a specific contact source so a partner can see progress.
Disciple.Tools Admin – All D.T permissions.
Multiplier – Interacts with Contacts and Groups.
Registered – View profile and change contact details.
User Manager – List, invite, promote and demote users.
For a fuller description of each of the roles, please see the Roles Documentation.
---
Section Contents